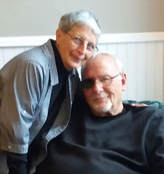 E
ach year at the MAI Annual Dinner Meeting, the Manistee Art Institute awards someone in the community the VIVA Award. This
V
ery
I
mportant
V
olunteer for
A
rt is our way of showing our appreciation and recognizing an individual or individuals for their outstanding volunteer work throughout the previous year. The VIVA Award for 2016/17 was given to Kathy Barrett and Wayne and Nancy Kent for their dedication and countless volunteer hours to the MAI. ​
Wayne and Nancy Kent
Wayne and Nancy have dedicated countless hours assuring that the River Street Artisan Gallery is open for business. Their welcoming smiles and enthusiasm for our artist's works have guaranteed many sales.
They also keep the gallery dust free and shining. Wayne's photos have been a stable in the MAI's exhibits and competitions over countless years. He won First Place in the People's Choice Award in 2013 for his photo "ArtOlympics," and First Place
in the People's Choice Award in 2015 for his photo "Fun and Fascination."
Wayne and Nancy have been members of the MAI since 2013.
​
---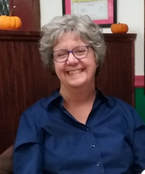 Kathlene Barrett

Kathy has spent many hours volunteering at the River Street Gallery where her acrylic paintings and prints are on display. She also loves to paint scenery for the Manistee Civic Players, and is getting quite a reputation for painting life-like rocks and creating weird animals. She is now managing our webpage.
Kathy has been a member of the MAI since 2015.
---
Past Receipients:
1994 Mary Ann Grbowski
1995 Ron Bauman
1996 Robin Reese
1997 Sally Chapman
1998 Tom Gerhardt
1999 Ron Bauman
2000 Ron Bauman
2001 Bill and Sally Chapman
2002 Nancy Lyon and Bob Lawrence
2003 Bob Lawrence
2004 Mary Cunningham and Eunice Racine
2005 Carol Fox
2006 Ken Grabowski
2007 Betty Lindstrom and Allan Sorenson
2008 Carol Fox and Eileen Postma
2009 Pat Lottie, Elaine Sutherland and Deb VanLeen
2010 Marge Lawrence
2011 Robin
2012 Joan and Harry Dutton
2013 Deborah and Larry Clark
2014 Patrice Murdock
2015
2016 Kathy Barrett, Nancy and Wayne Kent